Getting up before sunrise isn't always easy, but taking one of the best hot air balloon rides in Australia is well worth the early morning. A ballooning experience is magical from start to finish, giving you a unique perspective over the landscape and an adventure you'll remember forever. Hot air ballooning is one of our most popular Christmas gift ideas for a reason!
To inspire you to float with the wind (and maybe even cap off the balloon flight in style with a champagne breakfast) we've pulled together a list of hot air ballooning spots that will take your breath away.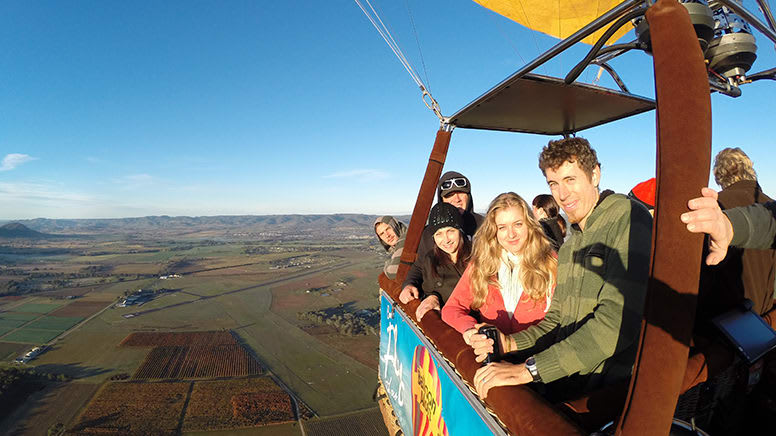 Mudgee
Fly high over UNESCO World Heritage wilderness, wineries, and quaint towns. A la carte breakfast and a glass of sparkling at a local winery will round off your adventure in style, and the day will have just started!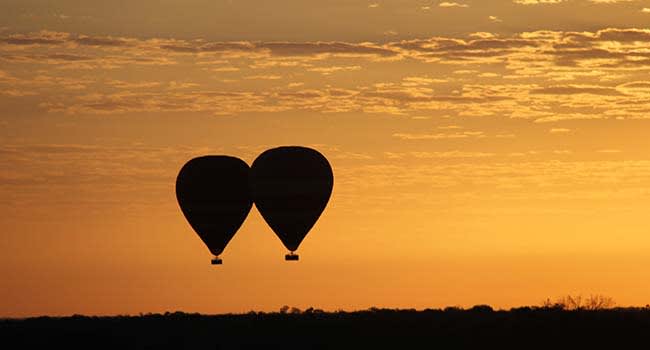 Orange Region
Drift over the farmlands and valleys of Central West New South Wales and see where the wind takes you. It's sure to be a beautiful journey as you take off in the Belubula Valley in Canowindra, near Orange. Unlike some other locations, hot air balloon flights take off here throughout the year.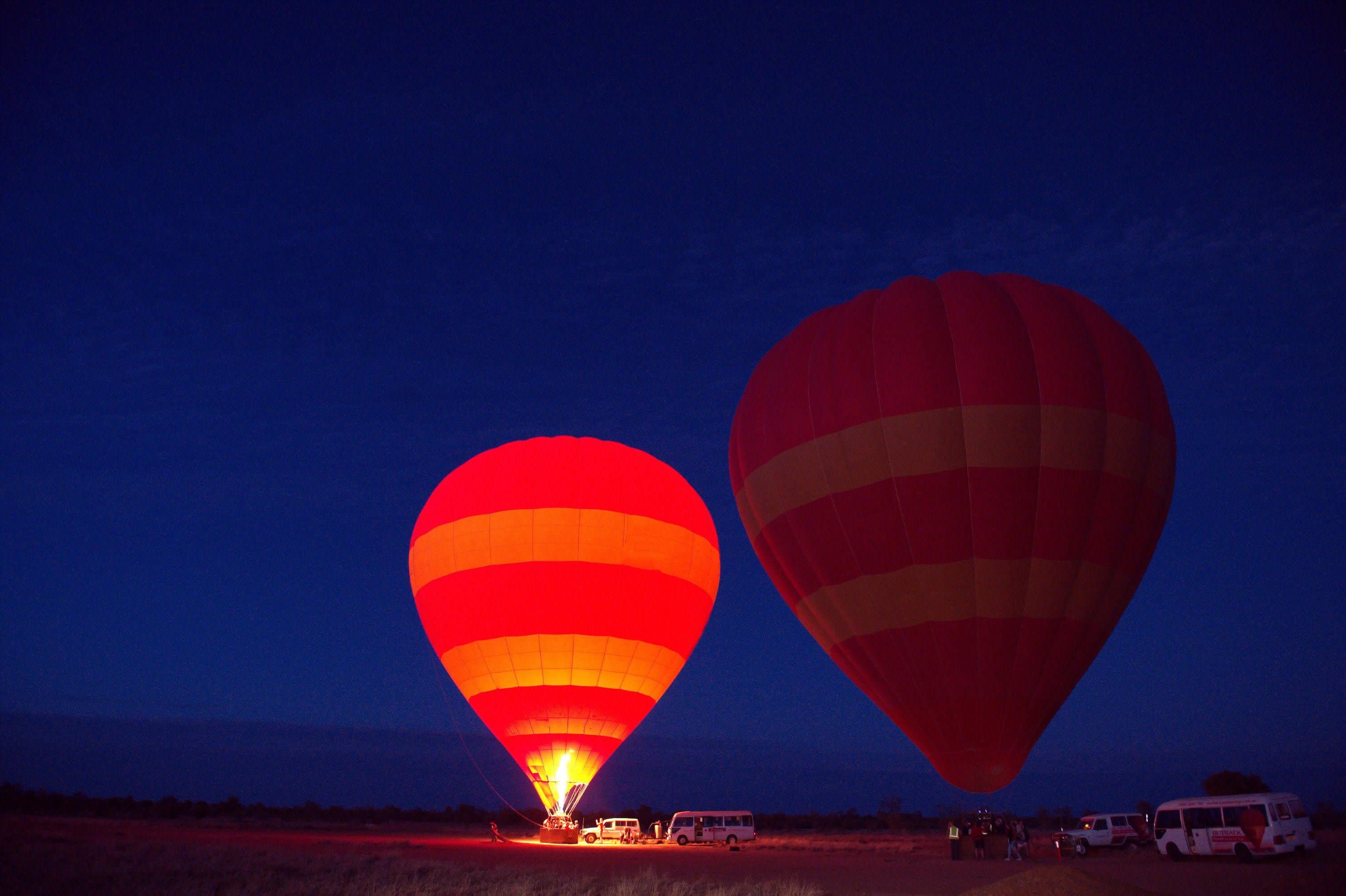 Alice Springs
There's no better way to see the great red expanse that is the Central Australian outback than floating silently over it. Take a hot air balloon from Alice Springs for a bird's eye view of the MacDonnell Ranges, unique wildlife, mighty cattle stations and a newfound appreciation for the scale of Australia's red centre.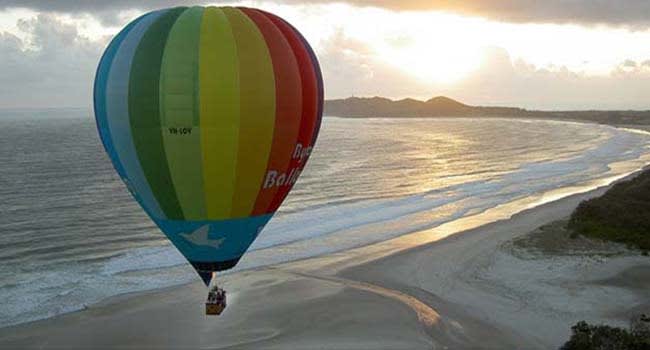 Byron Bay
This part of Australia boasts some of the loveliest scenery in Australia. From the coastline to the hinterland, Byron Bay hot air balloon rides are a sensational way to see this popular New South Wales region in all its glory. Whether you're a visitor planning your Byron Bay itinerary, or a local looking to get a new perspective on the place, these experiences are a must-do.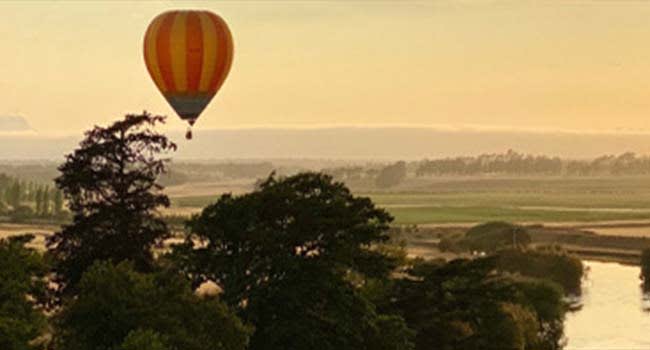 Launceston
Take off over the countryside near Launceston with the only hot air balloon operator in Tasmania. Watch the sunrise over the horizon, feel the exhilaration of flight and enjoy the informative and interesting commentary as you glide across the sky.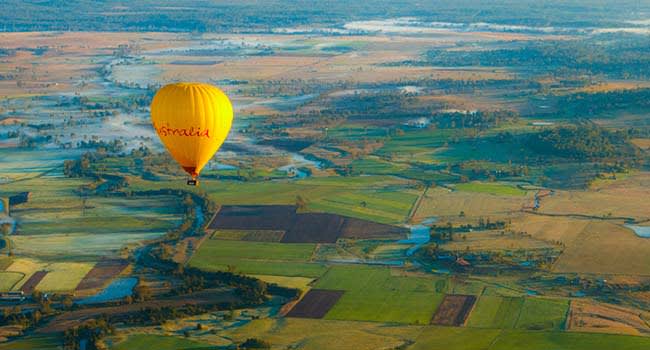 Cairns
Far North Queensland visitors and locals alike never fail to be impressed by the rainforest, creeks, mountains and waterfalls of the Atherton Tablelands. The best way to take in all the best panoramic views of this greenest of regions is with a sunrise hot air balloon ride. Cairns coach transfers are included.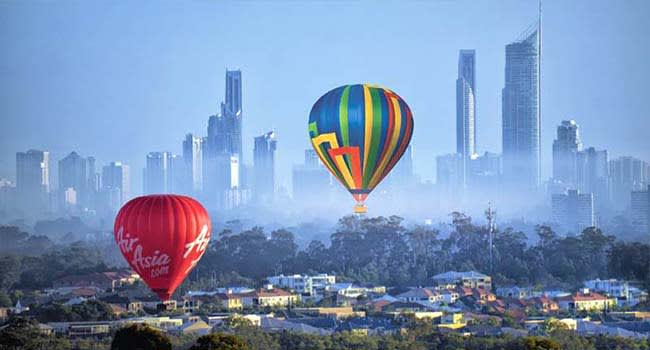 Gold Coast
If it's a scenic hot air balloon ride you want, Gold Coast has the x-factor. Choose a flight over the iconic beaches and Surfers Paradise's landmark buildings or get away from it all and head to the Gold Coast Hinterland for stunning natural beauty and a delicious breakfast at O'Reilly grand homestead and vineyard.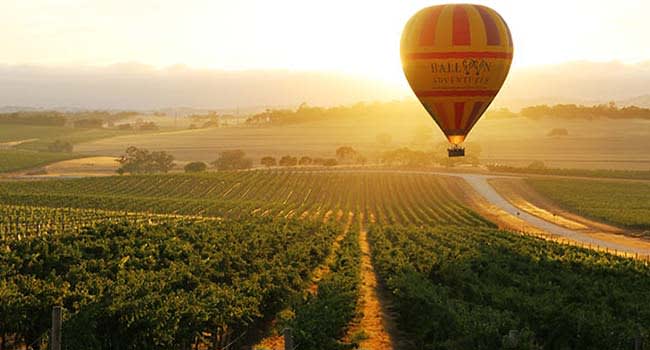 Barossa Valley (Adelaide)
No visit to Barossa Valley, the famous wine-producing region a short journey from Adelaide, is complete without seeing it from above. This is a landscape that will catch your eye and capture your heart. Be sure to bring along a camera to snap some memorable photos of the awe-inspiring sights.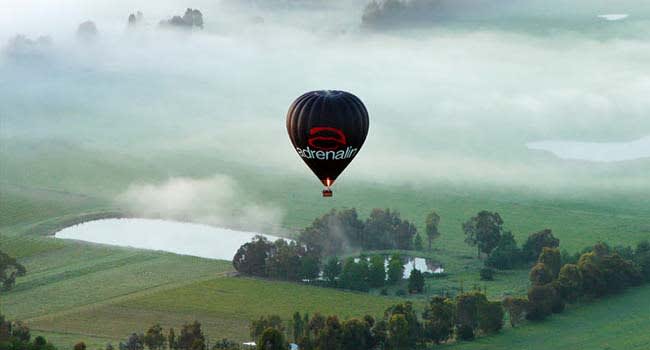 Yarra Valley
Victoria's Yarra Valley is almost as famous for ballooning as it is wines. Early mornings often see the landscape covered with a fine layer of fog, which only makes the views more impressive. Don't believe us? Check out the photographs.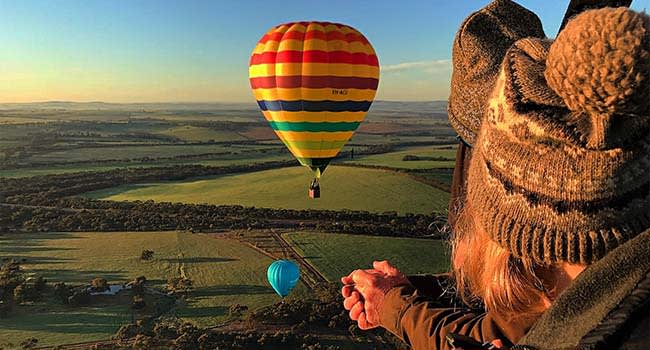 Perth
Incredible views of Western Australia's rural landscape await you with a hot air balloon ride in Perth. Head up, up and away over Avon Valley and you'll be treated to sensational sunrise scenery and a patchwork quilt of paddocks and pastures that have made this a ballooning hotspot for more than a quarter of a century.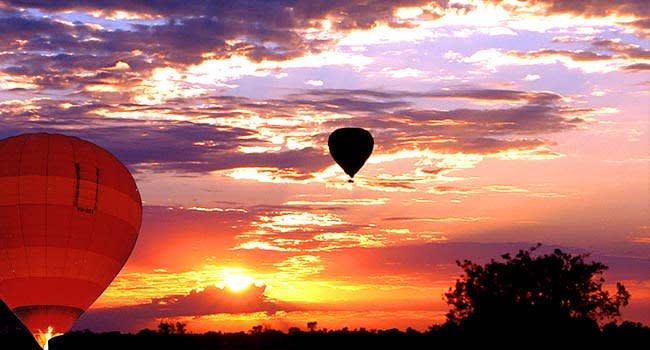 Brisbane
Soak up the majestic views of Greater Brisbane, Ipswich, Scenic Rim and Somerset region in South East Queensland and it's easy to understand why this is one of Australia's most popular ballooning locations. Combining city and countryside views, you get the best of both.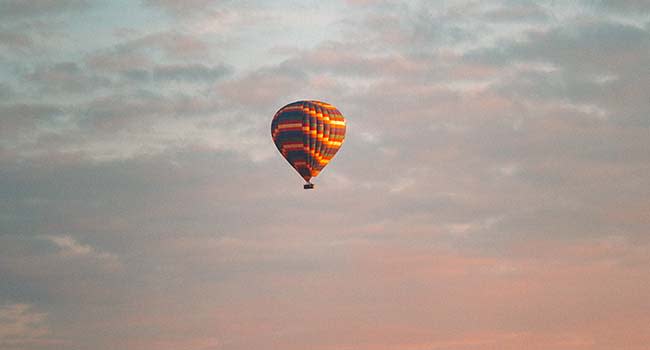 Canberra
The Canberra skyline, parklands and suburbs are best appreciated from the air. Australia's capital is a great place to tick hot air ballooning off your bucket list. There's even an annual Canberra hot air balloon festival (the Canberra Balloon Spectacular), where balloons from around the globe take to the skies over the capital.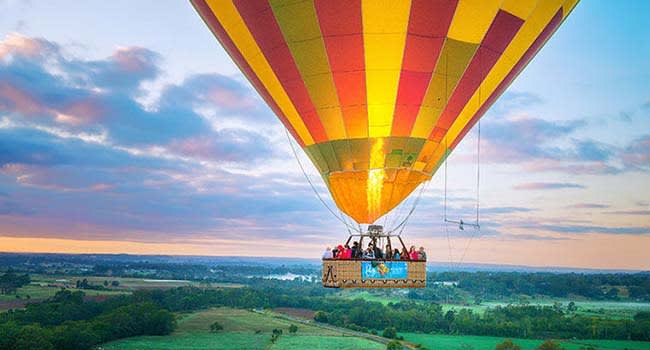 Sydney Macarthur Region
Anyone looking for hot air balloon rides near Sydney will find the Macarthur region's gorgeous countryside (less than an hour from the city centre) a great choice. You'll enjoy unbeatable views over the lush landscape, stretching all the way to the Blue Mountains.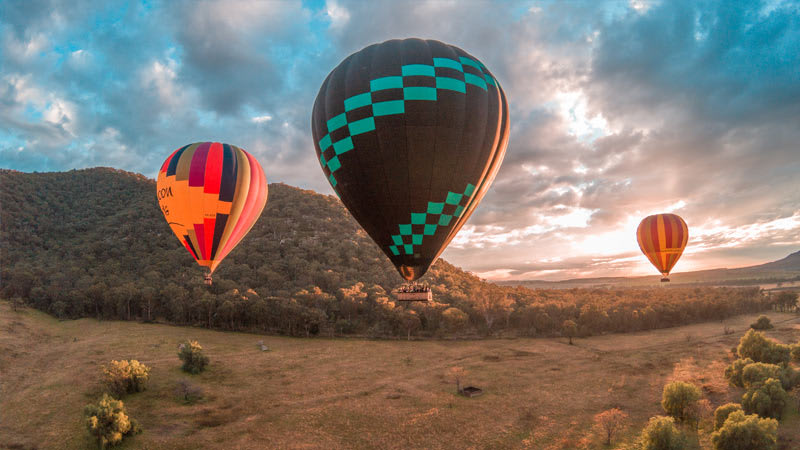 Hunter Valley
Australia's oldest wine region has plenty to offer visitors beyond fantastic wines. It's a superb region for hot air balloon rides, with its rivers, valleys and vineyards rewarding those bold enough to take flight with some of New South Wales' best scenery.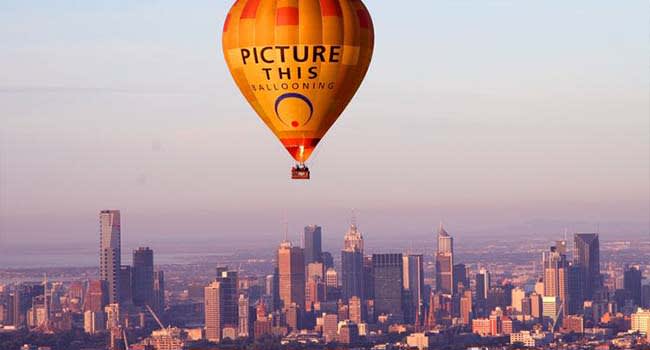 Melbourne City
There are many things to do in the Victorian capital, but flying over Melbourne in a hot air balloon is up there with the very best. This unique city flight offers remarkable views of Melbourne CBD, the Yarra River, and many of its most famous landmarks.
Ready?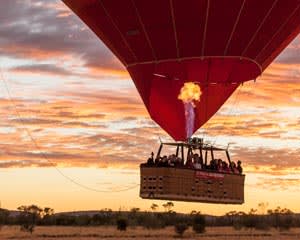 NT: Alice Springs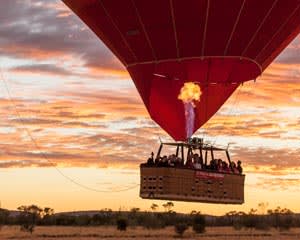 NT: Alice Springs