Employee Rewards and Recognition


How do you show your team you appreciate their hard work? As an employer, it's your job to uplift and motivate your team. To elevate productivity and show your employees their value. Choose adventure to reward and inspire your team.

Adrenaline has an adventure for every skill level, with more than 2,000 adventures across Australia. Whether you're organising an adventure for your employees to enjoy with friends, family or solo, rewarding and recognising with Adrenaline is easy. Buy a reward now that your team can enjoy later, with all eGift Cards valid for 5 years.
Top Adventures for Employee Rewards
Dolphin Swimming and Snorkelling near Melbourne
Give your employees the incredible opportunity to get up close and personal with Australian marine life. As part of our sustainable, low-footprint adventures range, this sea life encounter will have your staff spotting all sorts of marine life as they snorkel through crystal clear waters.

SHOP ALL SNORKELLING
Horse Riding in Cape Tribulation

Let your staff explore the Daintree's untouched landscapes of Cape Tribulation on a two-hour horseback adventure. Your team will spend the afternoon exploring the lush Daintree rainforest, sandy beaches, ocean waters, and stunning open paddocks.

SHOP ALL HORSE RIDING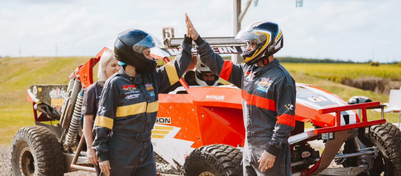 Off-Road V8 Race Buggies near Brisbane
Recognise your team for their hard work with a thrilling off-road driving adventure. Your team will jump into the driver's seat and master the art of tight corners and a professional driver will then take your employees on two electrifying hot laps.

SHOP ALL OFF ROAD RACING
Give your team the opportunity to take on some of the largest sand dunes in the Southern Hemisphere on this quad biking adventure. Your employees will ride a powerful quad bike up and down dunes that tower three-storeys high while enjoying amazing coastal views.

SHOP ALL QUAD BIKING
Rottnest Island Glass-Bottom Kayaking

There is no better way to recognise your team than to get them outdoors and exploring new locations. On this kayaking adventure, your team will discover the fascinating world of tropical marine life as they peep through their glass-bottom kayak.

SHOP ALL KAYAKING
What are the effects of rewarding employees?
When you reward and recognise your team for their hard work, you will see an increase in employee motivation, productivity, and performance. Get your team away from their desks and choose to reward them with an adventure they've never tried before. Adventure is a unique and meaningful gift that will make your team feel valued, and increase their morale.


How to incentivise employees?
There are many ways to incentivise your employees, from recognising and rewarding a job well done, to providing them with flexibility and opportunity. In a recent study from RewardGateway, 50% of employees agreed that they would leave a company where they felt their hard work went unrecognised, while another study from Valmorgan found that 47% of people want to try an experience that gets them into the great outdoors.

Adventures provide employees with an incentive that can't be matched by physical or monetary rewards. The stories and memories that linger after an adventure last far longer than the excitement of a monetary reward which in turn, engages and motivates employees to drive sales, increase revenue and level up their productivity.