Kicking back on a kayak in Byron Bay… Does it get any better than that? Let me answer for you, NOPE! This was the best way to spend my afternoon. When I saw Adrenaline had a kayaking adventure I jumped at the chance to do it. Usually, I am doing experiences beneath the water or in the sky, but this time I was going to be paddling on the water, viewing the beautiful coastline from out at sea.
Here is how it went.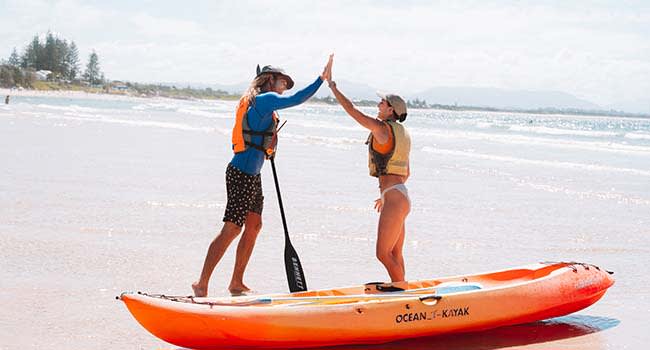 Our tour guides were ready to get stuck in
One thing I loved about this kayaking tour was the zero faff. I arrived and the two passionate guys leading our tour guides were ready to get stuck in! We got the 101 on how to use a paddle, what to do if we fall or jump out of our kayaks whilst in the ocean and then we were on our way. We paddled out over the small waves off from Byron Beach and the sun was beaming down!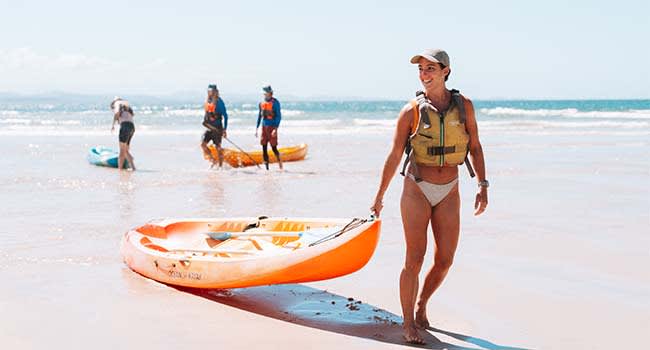 A moment to soak up the glorious weather
This was the tough part - paddling over waves. If you and your paddle buddy weren't synced up and you approach a wave side on, you'll find yourself going for a little dip! The good news was that our group had their technique down to a fine art. We paused for a moment to soak up the glorious weather on the water while the tour guides shared some details about the Byron area, marine life and indigenous culture. It was so interesting to learn a little bit more about the local history.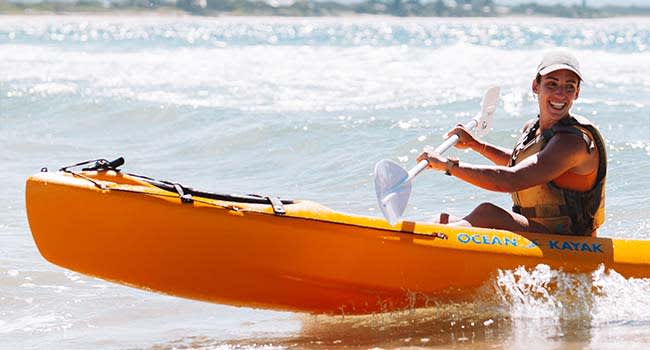 the supplier is passionate about protecting the local wildlife
We continued on kayaking and only a short while after we spotted a leopard shark that was gliding beneath us. It was easily recognisable through the crystal clear waters and we were informed that they are harmless (I took a slight breath of relief). To add to the list of incredible marine life we saw, there was a sea turtle and a little baby swimming by us! We all stopped paddling so as not to disturb them, as we learnt how passionate the supplier is about protecting the local wildlife. They spoke about how they are constantly making improvements to the tour all the time and pride themselves on this.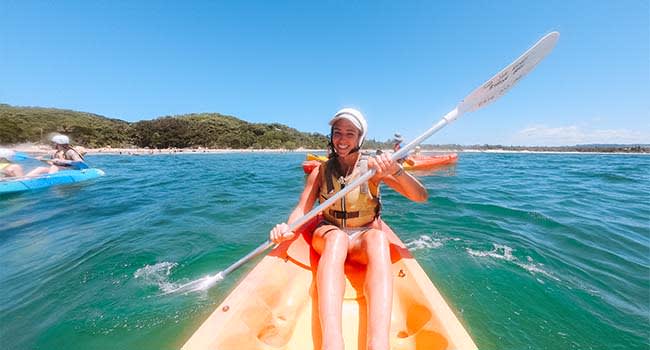 What came next was the highlight for me
What came next was the highlight for me... DOLPHINS! A whole nursery of them - 5 or more playing in the water surrounding us, diving out of the water and one even swam right up beside my kayak. It was a pretty special moment and the dolphins had us in awe. I went for a little swim out of my kayak by jumping off into the water to cool off before heading back towards the beach. The 2 hours had absolutely flown by.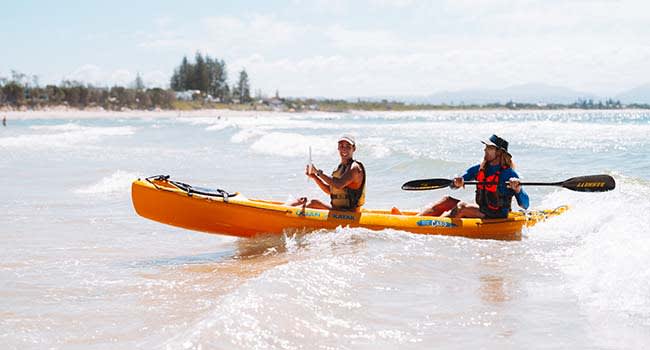 Trust me, you will love it!
On the way back to shore we had a little rush of excitement as we surfed the kayak in on a wave. Woohooo! What an experience... I saw dolphins, turtles and a shark. I would recommend this experience for friends, couples, siblings, anyone! You don't need any particular level of fitness so everyone can get involved. Trust me, you will love it!