If you're ready to take the leap and experience skydiving, the experience is only made even better when done over somewhere beautiful. From the coast to iconic inland skydives, here are some of the most scenic skydiving locations around Australia.
NEW SOUTH WALES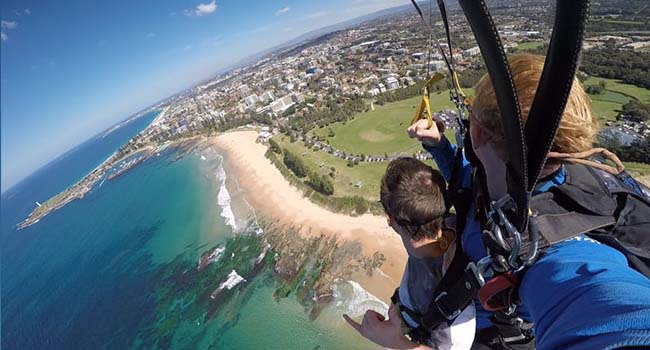 Wollongong
Skydiving from 15,000ft over Wollongong beach is definitely one adventure that should be on every Sydney-siders bucket list. Only a short drive from Sydney you can experience one of life's most thrilling experiences over the shores of Wollongong beach. When your parachute is deployed and you're still reeling from the electrifying feeling of skydiving, take in the gorgeous coastal views from a unique vantage point.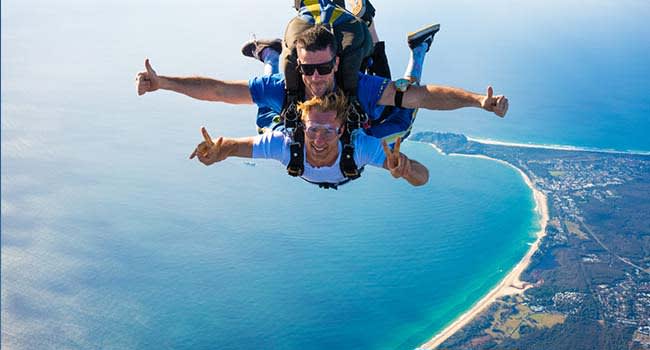 Byron Bay
When in Byron Bay, why not skydive? Freefall for up to 60 seconds at speeds of up to 220kph before your tandem instructor deploys the parachute. Then take in striking blue water and glide your way over views of Cape Byron Heads to Julian Rocks. Even when you land, we guarantee you'll be on a high for weeks to come.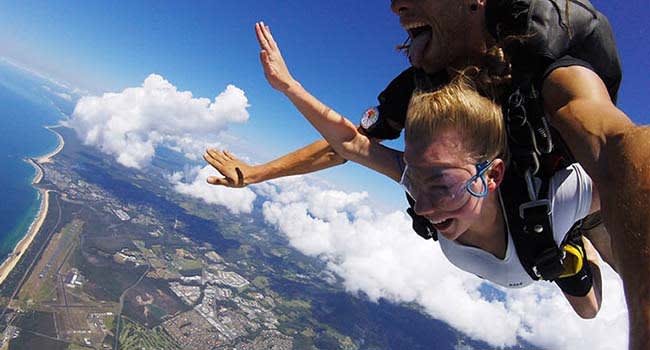 Coffs Harbour
Your adventure begins at Coffs Habour Airport as you gear up for an impressive scenic flight on your way to altitude. Before you know it, it's time to take the leap! Jump from 7,000ft and enjoy 20 seconds of pure thrill as your freefall through the sky. This heart pounding experience will leave you feeling invigorated and ready for more.
VICTORIA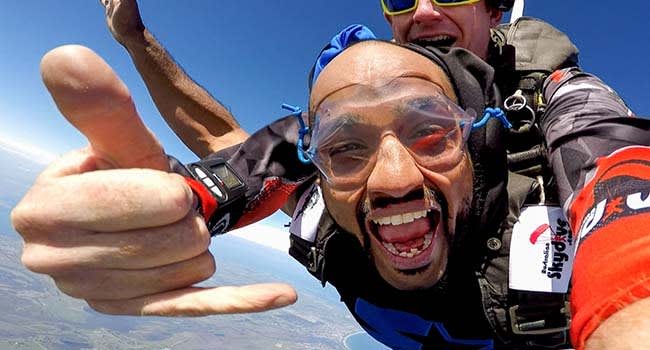 Great Ocean Road
Everyone has the Great Ocean Road on their list of things to see in Australia, so why not see it from the greatest vantage point of all? Above! This thrill of a lifetime is such a unique and hair-raising way to witness one of Australia's iconic landmarks. Take your sightseeing to brand new heights and add skydiving to your to-do list.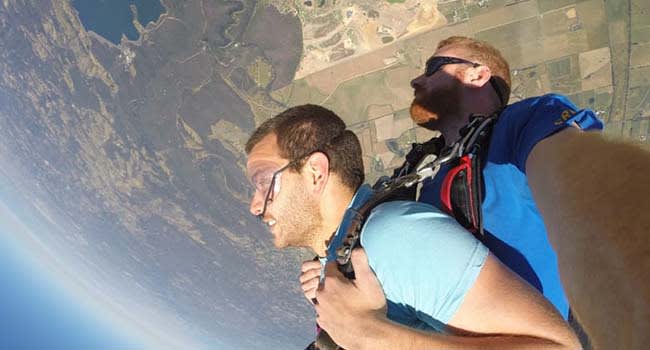 Yarra Valley
Experience the extreme sport of skydiving over the expansive Yarra Valley countryside. Board the flight that will carry you up to 15,000ft before taking the leap. Your professional tandem instructor will handle the technical stuff, so all you need to do is take in the rush and experience one of the best moments of your life.
QUEENSLAND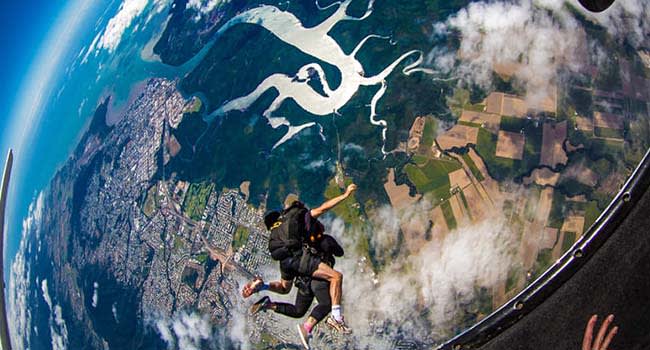 Cairns
If you're after a spectacular drop zone then Cairns has it all. Stunning views of the lush rainforests of Tropical North Queensland, the Great Barrier Reef and the city centre of Cairns. Not only are you taking on one of the most extreme sports, but you're also doing it one of the most picturesque locations in Australia. What an adventure!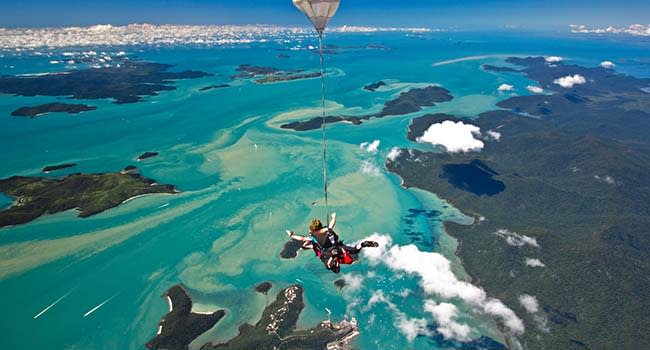 Whitsundays
Experience an adrenaline-pumping skydive from 15,000ft above the stunning Airlie Beach. Feel your heart race as you freefall for up to 60 seconds, before your tandem instructor deploys your parachute. Then enjoy a canopy ride as your float down above stretching views of the Whitsundays and the Great Barrier Reef in the distance.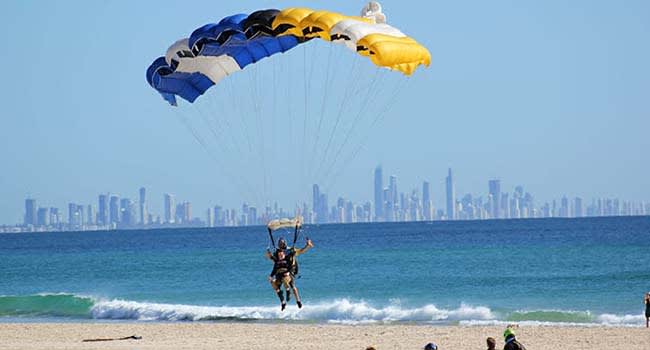 Gold Coast
If you're after the perfect combination of beach and city views, the Gold Coast is the drop zone for you. Jump out of the plane at 12,000ft and freefall at speeds of up to 200kph. Then your instructor will deploy the parachute and you'll enjoy a serene canopy ride for the remaining 4,500 feet. Soak up the spectacular views over the Gold Coast, beach, and ocean, and enjoy the high of skydiving long after touching down.
WESTERN AUSTRALIA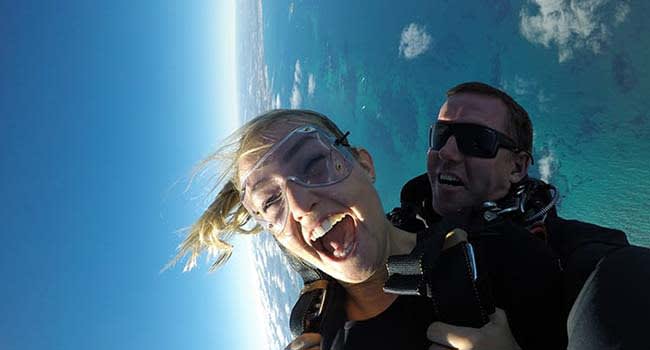 Rottnest Island
Your skydiving adventure begins as you board the ferry to Rottnest Island Airport. Then board the plane and prepare for a heart-racing adventure. Once you reach the 15,000ft altitude, the countdown is on to jump. Three, two and one; you're freefalling for up to 60 seconds at speeds of 200kpm. Once the parachute is deployed enjoy a 5-minute glide down to the pristine Rottnest Island Beach.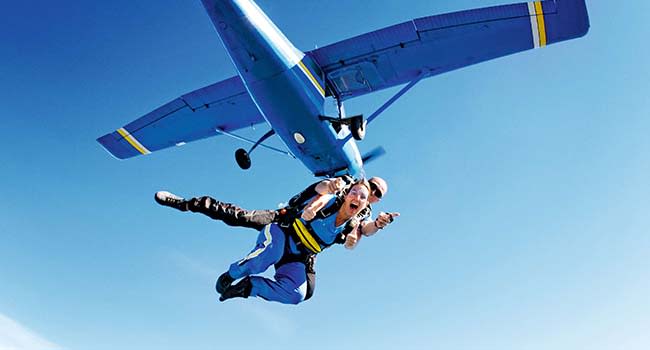 Browse all skydives
Looking for more? Explore all the incredible skydiving adventures we have on offer. Whether it's your 1st or 50th, we guarantee you'll absolutely love the rush of all the skydives we have on offer.
Ready?
Christmas Deal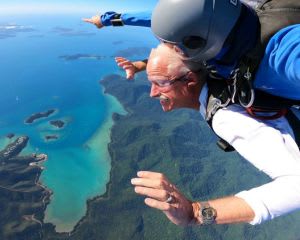 QLD: Whitsunday Islands
CHRISTMAS DEAL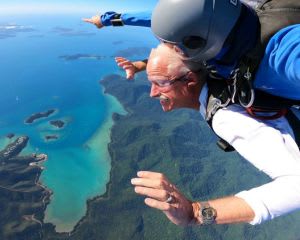 QLD: Whitsunday Islands