Chase that summer feeling and head to Australia's sunshine state: Queensland! Home of the Great Barrier Reef, the Daintree Rainforest, the adventure-filled Gold Coast and so much more, there's no shortage of excitement.
From the perfect road trip pit-stops to bucket-list adventures, it's time to get back to really living.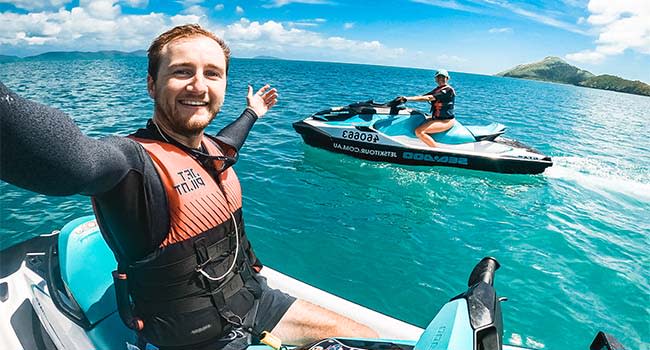 Jet ski
This quintessential Queensland experience should be at the top of your holiday hitlist. Gear up to make some waves across the gorgeous tropical waters of the Whitsundays, the Gold Coast or Noosa. Watersport lovers will be in their element and nature lovers will enjoy seeing the waterways of Queensland from an entirely new perspective.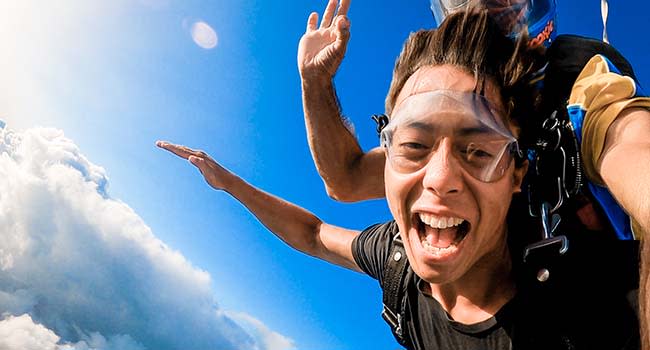 Skydiving
Nothing beats the rush of adrenaline when you are mere seconds away from taking the leap and freefalling for up to 60 seconds before your parachute is released and you can catch your breath while taking in the incredible views of Queensland. From the sensational coastal views of Airlie Beach, Noosa or the Sunshine Coast, to the city skyline of the Gold Coast, make your next Queensland trip one you'll never forget.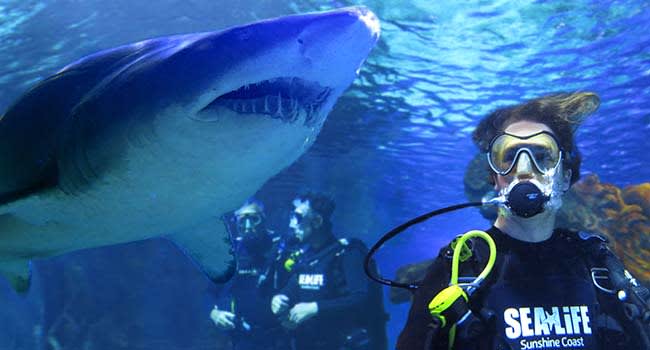 Swimming with sharks
Picture this: you are face to face with the ocean's apex predator, locking eyes as you take in the rows of sharp teeth. Swimming with sharks is definitely as thrilling as it sounds. From diving alongside wild sharks on the Sunshine Coast to taking a dip in the shark tanks of SEALife or Cairns Aquarium, Queensland has an excellent selection of hair-raising swimming with shark experiences. So take your pick and dive in.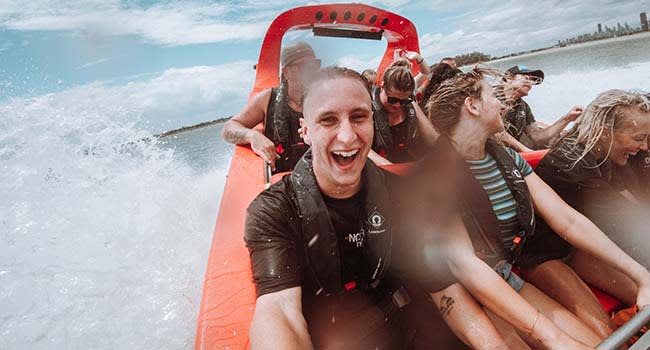 Jet Boats
Thrills, spills and action-packed; jet boats give you that wind-in-your-hair rush thanks to a V8 engine and your experienced captain. Make waves around Surfers Paradise, Cairns or Airlie Beach and make the most of the summer sunshine before it's over.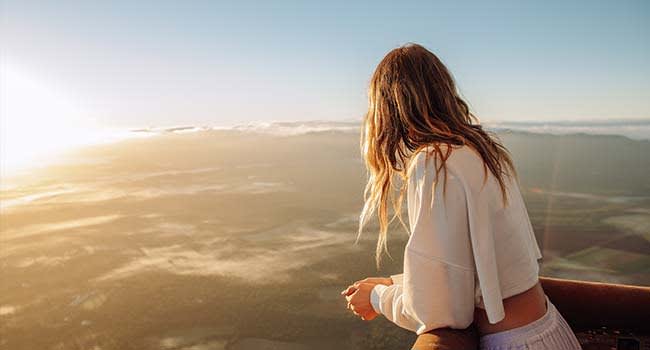 Hot air balloon
Floating on the breeze in a basket, while several hundred metres in the air never gets old. The rush of excitement from take off and then the awe-inspiring views make hot air ballooning such a special adventure. Especially when you're looking over at the rolling hills of the Gold Coast Hinterland, the Atherton Tablelands or soaring above the Brisbane region.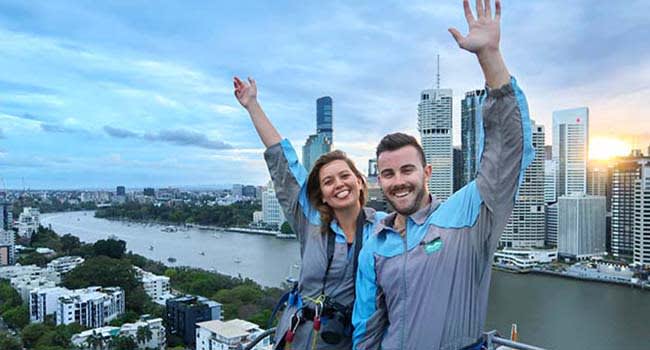 Story Bridge Climb
Push yourself to new heights and see Brisbane like you've never seen it before – from the very top of the Story Bridge. Whether you want to take in the dazzling city lights with a night time climb, start your day with an invigorating dawn climb or watch the sun slowly set over the skyline at twilight, there's a climb to suit everyone's adventure schedule. You'll be surprised at how accomplished you'll feel looking down over Brisbane city.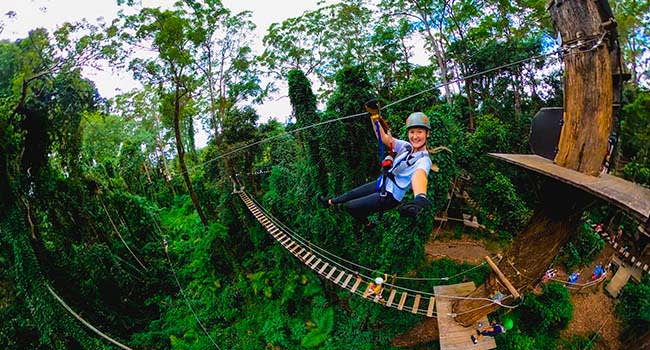 Tree top & flying fox
Treetop and flying fox adventures are ideal for the young and young at heart. Harness up and get ready for a fun day of flying through the treetops, taking on great heights and high speeds as you make your way through the canopy.
Kayaking
There's no better way to experience a new location than by grabbing a paddle and jumping into a kayak. Get to know the diverse marine wildlife of Queensland as you make your way along the waterways of the Gold Coast, Brisbane River or even across the Great Barrier Reef in Cairns. Whether you take some time for a solo kayaking adventure or bring along your crew, this is one of the engaging ways to make the most of your time in Queensland.
Great Barrier Reef Tours
Would it really be a Queensland holiday without a trip to the Great Barrier Reef? Spend some time discovering the Tropical North of Australia and soak up the incredibly diverse and expansive marine ecosystem of the Great Barrier Reef. With full-day snorkelling tours and day cruises available, all you need to do is jump on board and gear up for an extraordinary adventure.
Horse Riding
Queensland has some of the most striking scenery on the planet. With turquoise shores, white sandy beaches and the lush greenery of the Daintree rainforest, there's so much to take in. A horse trail ride allows you to experience it all from a unique vantage point. Saddle up and make your way through the rainforest at Cape Tribulation, before finishing your adventure on the shores of Myall Beach.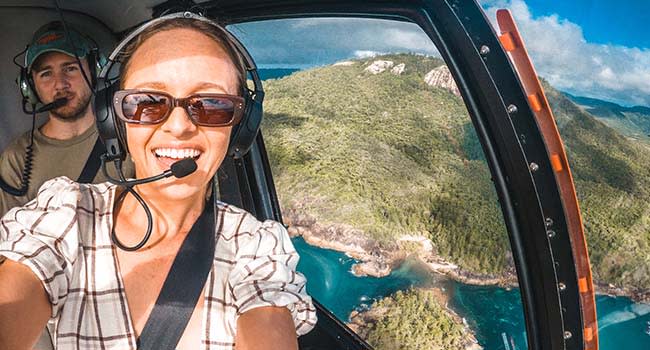 Scenic Flights
There is something so special about seeing things from a bird's-eye view on a scenic flight and Queensland certainly has views that are worth witnessing from above. From the swirling turquoise and stark white shores of the Whitsundays to the hustle and bustle of Brisbane, and the best of both worlds with the coastal and city views of the Gold Coast. This is such an epic way to level up your next holiday.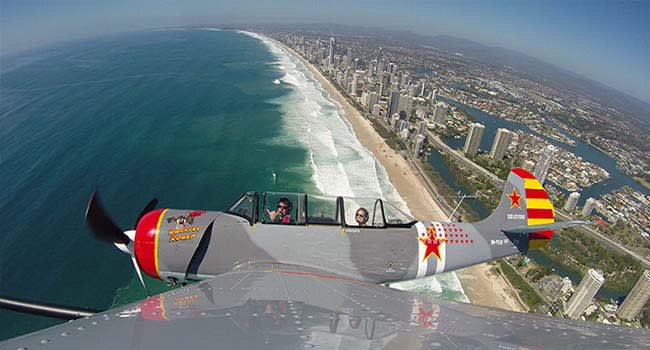 Aerobatic flights
If you love heights, high speeds and an adrenaline rush unlike any other, aerobatic flights is the adventure for you. Marvel at the control your pilot has of the aerodynamically designed aircraft as you experience dazzling air manoeuvres. From barrel rolls to nose dives, an aerobatic flight over Brisbane or the Gold Coast will most definitely satisfy your need for speed.